Consumer Education Programme - Stored Value Facilities
---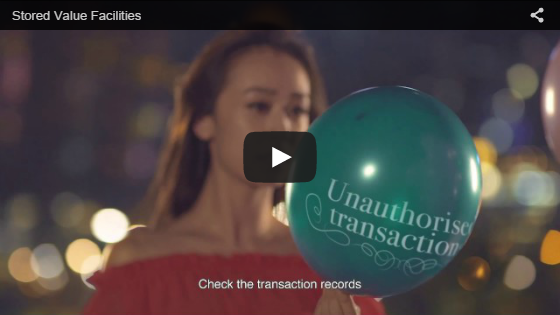 Smart Tips on Using Stored Value Facilities
Stored Value Facilities (SVF) generally refer to those payment products and services with stored value functionality which can be used as a means of payment for goods and services and/or for funds transfer between different parties. Apart from pre-paid cards, some SVF may also store value on mobile phones or accounts accessible through computer networks.
Under the Payment Systems and Stored Value Facilities Ordinance (PSSVFO), starting from 13 November 2016, any person who issues SVF in Hong Kong should hold a relevant licence from the HKMA and is subject to the HKMA's supervision. The SVF regulatory regime aims to protect float of users and to ensure the safety and efficiency of SVF.
You should remember the following smart tips when using stored value facilities:
✔ Read and understand the terms and conditions of the SVFs, including fees, privacy policy and user rights and obligations.
✔ Keep your SVFs and passwords safe, and adjust security settings as necessary.
✔ Avoid disclosing confidential information.
✔ Check transaction records frequently in order to identify any unauthorized transactions in a timely manner.
✔ Manage your float wisely and avoid loading too much money onto your SVF.